The SEED – October 2021

October 2021
(Note: The SEED bulletin includes personal testimonies to demonstrate the power of the Gospel to change lives, with the hope that the Holy Spirit would touch and encourage the reader through them, and hopefully share with others that do not know Christ.) 
Every day they continued to meet together in the temple courts. They broke bread in their homes and ate together with glad and sincere hearts, praising God and enjoying the favor of all the people. And the Lord added to their number daily those who were being saved.
– Acts 2:46-47

ZONE STATISTICS
AS OF END OF 3Q 2021
The 3Q Update is now available at www.shareint.org/quarterly-updates/3q-2021.
    In late-September, 7 SHARE staff traveled nearly 100 miles south of Lodwar to Nawoitorong Village, Lokori Zone to assist the 4 area Motivators in planting a new church. This village is about 5 miles from Motivator David Ekaran's church in Lokwii Village. The team screened The Jesus Film in four villages: Nawoitorong, Apachale, Nabwelnyang, and Lokwii, with a total attendance of 2,335 villagers. They also held open-air evangelistic meetings in these villages, where 302 people attended. Altogether, 158 people were saved and 58 were baptized! The team distributed food to some of the villagers as well. The photos below depict this joyous event.
JACKTAN KACHI LEADING THE OPEN-AIR MEETING
VILLAGERS KNEEL TO ACCEPT CHRIST AS SAVIOR AFTER VIEWING THE JESUS FILM
JACKSON ERUS AND JACKTAN KACHI BAPTIZING NEW BELIEVERS
SARAH ESEKON TEACHING WOMEN THE 3-CIRCLES' DISCIPLE-MAKING METHODOLOGY
UPDATES FROM NAYADA & KATAPAKIN ZONES
    There are 23 Motivators serving the Lord in 52 churches in this zone, with approximately 4,100 believers attending services. Each Motivator is responsible for 2 or more churches. Some are responsible for up to 6 churches! In September, 82 people accepted Christ! Due to lack of water, no one was baptized.
    There are 53 Lighthouses led by 53 Champions who are discipling over 600 believers! The Audio Bibles and DMM signage bookmarks are having a very positive impact, and multiplication of disciples is apparent.
TESTIMONY
    My Name is Ann Namoru. I accepted Jesus Christ as my Savior at the Baptist Church in Lodwar. After that, I traveled back home in Nayada Zone with my livestock. I lived here for 4 years without hearing the Word of God.
    One day, Share International came and planted a church here, and I started attending Sunday services. Motivator Godfrey Lokaale Eregae shared the Gospel of Jesus Christ under a big tree. I was the first person to join Godfrey in sharing the Gospel in my village. I praise and thank God that He is leading me to search for lost souls, so I can share the Gospel with them and make disciples.
    Motivator Godfrey taught me how to be a disciple-maker. Now I am a Champion of a Lighthouse with 10 disciples. They are starting to teach the Word of God to others.
    Those who receive Jesus Christ are very glad to hear Gods' Word. I work with another Champion, Sarah Ngamor, who lives in Kanamker village and makes disciples there. Godfrey visits our Lighthouses regularly. Many have been saved; even my brother, his wife, and my mother have received Jesus Christ!
    I travel with Godfrey when he goes to other villages to share the Gospel and train disciples. Sometimes we encounter challenges due to the drought. Men travel with their livestock in search of green pasture, but the women remain in the village praying for them. I am a Champion filled with the love of Jesus Christ. Although I wear this local attire, I am a leader of Jesus Christ, filled with Gods' Word, and ready to share God's Gospel with others. I thank and praise God that He is using me as His instrument to reach unreached villages and preach the Word of God. I am also thankful for my village; that God has blessed us.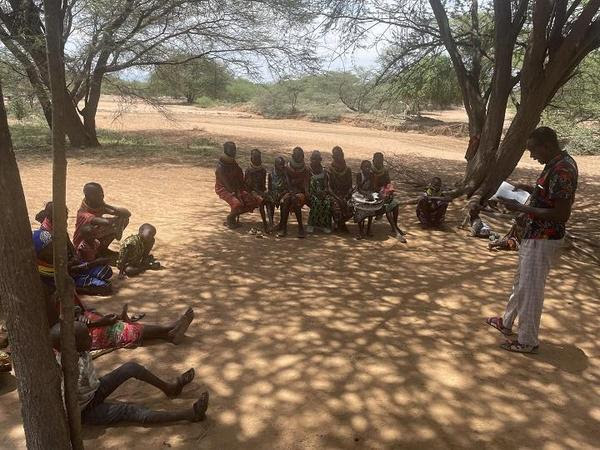 MOTIVATOR MICHAEL MEYEN SHARING THE WORD IN KABILASONOK VILLAGE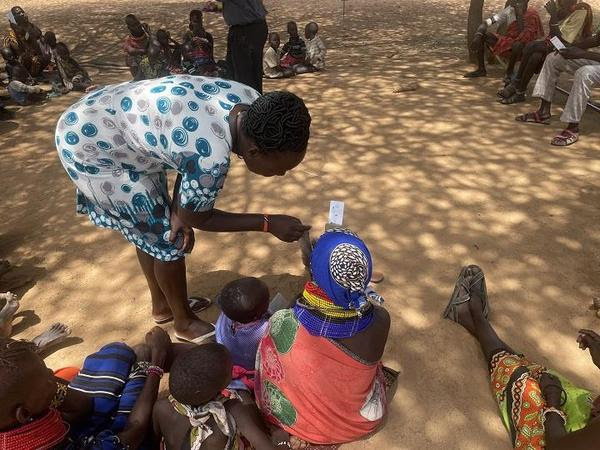 MARY ESINYEN TEACHING A CHAMPION HOW TO USE THE DMM SIGNAGE BOOKMARK
A CHAMPION AND HER LIGHTHOUSE LISTENING TO AN AUDIO BIBLE

The church is growing tremendously in Katapakin Zone, with 13 new churches planted in 3Q! This brings the total number of active, SHARE-planted churches in the zone to 54, with about 4,860 members attending. Lighthouses continue to be the best method for multiplication of disciples by training disciples who make disciples of others. The 60 Champions are leading 60 Lighthouses with 305 disciples attending. This increases the need for Audio Bibles, as the new believers are hungry for the Word of God in their language. SHARE continues to distribute more and more Audio Bibles.
TESTIMONY
     My name is Charles Maraka Napei'kiru. I preach in 3 churches under Coordinator Michael Silale.
    I would like to explain the ways that the DMM Methodology has helped us. It has helped us teach the Word using the 3-Walk method. The first walk tells the way a person was before being saved. The second walk tells how a person came to know and accept Jesus Christ. The third walk tells how the person now walks with Christ. We are grateful because the 3-Walk has taught us how to share our faith with others.
    The DMM Methodology has also helped through the signage bookmarks. A bookmark has symbols that remind us how to share God's story and our own story. This method is so simple and easy to use versus trying to read from the Bible, since many of us cannot read.
    The Audio Bibles have also been extremely useful too. People are able to listen and understand the Word of God through these devices in our own language. I am grateful for that.
    In these ways, DMM has enabled us to reach out to more villages and share the Gospel. New churches have been planted and the number of Lighthouses is increasing. Champions have been trained to make disciples, and in turn, those disciples are making disciples. We have managed to preach to several villages, both large and small, allowing many people to come to know Christ. All thanks to the DMM trainings we have received! May God bless the providers of this training. We thank you!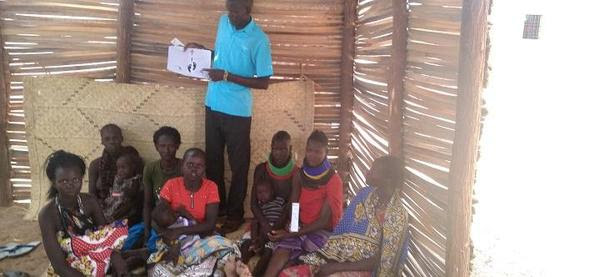 PASTOR & CHAMPION CHARLES MARAKA EXPLAINING THE 3-WALK METHODOLOGY
MOTIVATOR JOSEPH OMOLY NANG'ORA WITH ONE OF HIS LIGHTHOUSES
    In September, the Toposa Missionary Team traveled back to Kenya to obtain valid motorbike driver's licenses and ensure that all needed documents to allow them to share the Gospel in Toposaland are acquired.
    The Team is grateful to have received motorbikes, as well as driving training and motorbike maintenance skills. Soon they will be done with the training and go back to Toposaland to continue with surveying, evangelizing, and establishing their mission field base. Be on the lookout for more field reports coming soon.
    In addition to the 15 motorbikes, God has provided us with a Jesus Film projector, DMM signage bookmarks, and 500 Audio Bibles for the Toposa Missionary Team.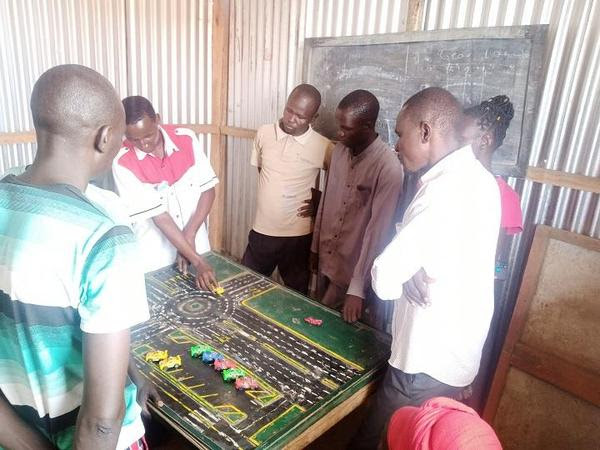 THE TEAM AT A DRIVING CLASS SESSION
TURKANALAND
PRAISES
Grateful for the DMM Tools: Audio Bibles, DMM bookmarks, and projectors
More and more are coming to Christ through Lighthouses
Continued commitment of SHARE staff, Motivators, Champions, and disciples
Continued care of the DMM Centers by the local church members
Adult Literacy Classes enabling people to read and write
REQUESTS
Clean drinking water across Turkanaland
Motivators to grow spiritually strong and healthy congregations and Lighthouses
More and more men in the villages to be drawn to Christ and join Lighthouses
Coordination to fencing the DMM Compounds by local believers
Continued moderate rainfall to provide pasture for livestock and keep believers from frequent migration
For the families of those who recently drowned in the lake flooding in Katapakin Zone
Relief for those who are starving
For these Motivators in Katapakin Zone: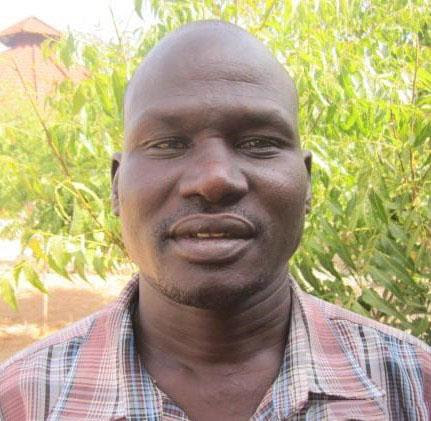 EMMANUEL KAMAIS ELEMAN
PAUL LOKWAWI RUPWALE
PAUL LORENG IMOJONG LOSAGAM
TOPOSALAND
PRAISES
Motorbikes and driving training for the Team
For the DMM tools: Audio Bibles, signage bookmarks, and a Jesus Film projector
REQUESTS
Successful acquisition of driver's licenses for the Team
Strength for the Team in areas of endurance and boldness in sharing the Gospel for God's glory
Wisdom to guide and lead the Team, so as to know and understand the Toposa people
    In September, a Vision Trip Team comprising of 2 SHARE Board members – Wayne Wuebbels and Sammy Murimi – and the Mobilization Pastor of Covenant Church of Naples – Brent Whitefield – visited 2 of the 14 village sites close to the South Sudan and Ethiopia borders where Sending Centers will be erected. The elders in Napusiki and Kangipusia villages in Kalobeyei and Kachoda Zones respectively have been working with SHARE Motivators to make the outreach to the 'Next Generation' in the region a reality. Eventually the Next Generation will take the Gospel into South Sudan and Ethiopia. It's exciting to witness many young people in the region embrace the DMM strategy, ready to run with it northward!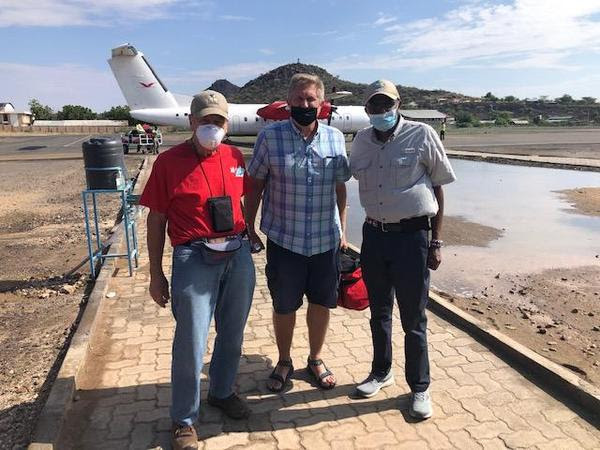 VISION TRIP TEAM 2021 ARRIVAL IN LODWAR

TURKANALAND MINISTRIES
    Needed by end of 2021: $154,120/KShs.15,412,000
TOPOSALAND OUTREACH
    Remaining Budget Needs: $12,846/KShs.1,284,600
NEXT-GEN INITIATIVE
    Remaining Budget Needs: $282,000/KShs.28,200,000
We also request you to consider sponsoring one or more of our Motivators that are in need of support at $2,400/KShs.240,000 per year (or $200/KShs.20,000 per month). You can sign up to support one here.
Thank you SO MUCH for your prayers and support!
*If donating online, you may assign a donation using the designation box. After you have chosen 'PayPal' or 'Credit or Debit Card', the next screen will allow you to designate which project you would like your donation to go to. To do so, click where it says "Designate ministry to receive funds below", and type your response there (i.e. Turkanaland, Toposaland, Next-Gen). Then complete your transaction. If donating by mail, you may assign your donation by writing it on the check's Memo line or including a note.
SAMMY PREACHING DURING STORM 2004