The SEED – July 2020
JULY 2020 EDITION
I pray that out of His glorious riches He may strengthen you
with power through His Spirit in your inner being.
Ephesians 3:16
Updates from the Zones indicated in blue are featured in this newsletter

Sopel Zone Leaders Meeting
    On July 3rd, all the missionaries and teachers in Sopel Zone got together at the Sopel DMM Center. Their discussion focused on the growth of the Zone in regards to cell-groups/Lighthouses and what steps they could take to improve. They agreed on the following:
A more accurate mapping of unreached and reached villages in the zone
Identifying the exact locations of Lighthouses
Fundraising for the remainder of the year
How the Center is being used and future possibilities for its use
Impact of Sunday School classes and teachers
    Currently, the Zone Coordinator, Stephen Long'or, and Secretary, Charles Lokol, are traveling throughout the Zone mapping all the unreached and reached villages. That outcome will determine where best to start new Lighthouses.
    The existing Lighthouses are doing well, despite COVID restrictions. They have grown from 38 to 44 groups this month.
    Fundraising has been difficult during the COVID restrictions, as churches have not been meeting. Donations are scarce, and there is no mechanism for digital donations. Leaders are discussing ways to help people continue to give to the work of the Lord.
    The Sopel Center is being used for worship, Sunday School classes, children's dedications, and prayer meetings, with social distancing observed. Unfortunately, some of the trained Sunday School teachers have abandoned their responsibilities and chosen to become motorbike taxi drivers to supplement their income. Zone Supervisor, Mary Esinyen, will be training new teachers. She requested the current teachers to work together and combine classes until the new teachers are ready, so the children can continue to hear the Word of God.
Sopel and Kalemng'orok Zones Supervisors, Mary Esinyen and James Ewoi, leading the meeting at Sopel Zone DMM Center
DMM is Strong in Lorugum Zone
    Lighthouses continue to thrive in Lorugum Zone, despite COVID restrictions. Families meet weekly in their homes for worship and spiritual guidance. The local Motivators visit homes and worship with families and then share a message from Scripture. When referring to a certain Scripture passage, they play it on the Audio Bible.
    Monitors, Motivators, and Champions are using the DMM curriculum to encourage believers to grow in their faith and, in turn, believers share their faith with others. They visit households on a regular basis to encourage families during this COVID season. They make sure the families are practicing good hygiene and encourage them to stay strong in the Lord, as He is their hope and salvation, the Author of life. If a family doesn't know the Lord, they take the time to share what the Lord has done for them and how He came to save them.
    Here are two video testimonies from Agnes and Daniel sharing what God has done in their lives.
Daniel Lopeyok Echuum's (center) Lighthouse with Zone
Coordinator Moses Ng'akipi and Motivator Ayengyeng Eloiloi (both on right)
Chokchok Zone
    Construction of the Chokchok DMM Center began on July 8th. All the supplies are now at the site, and the construction is progressing rapidly!
    There are 4 additional DMM Centers to be built – in Kalemng'orok, Lorugum, Lokori, and Katapakin Zones. The cost to construct each building is $35,000. Funds are still needed to construct them.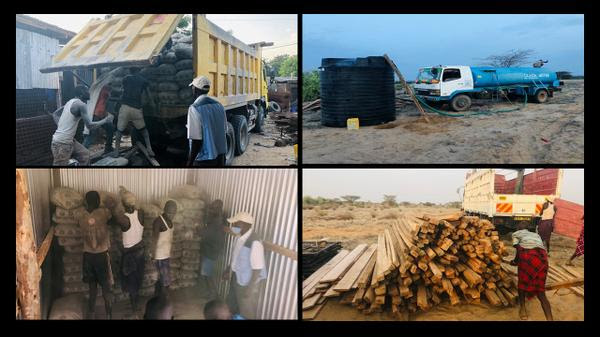 Supplies unloaded and getting ready to build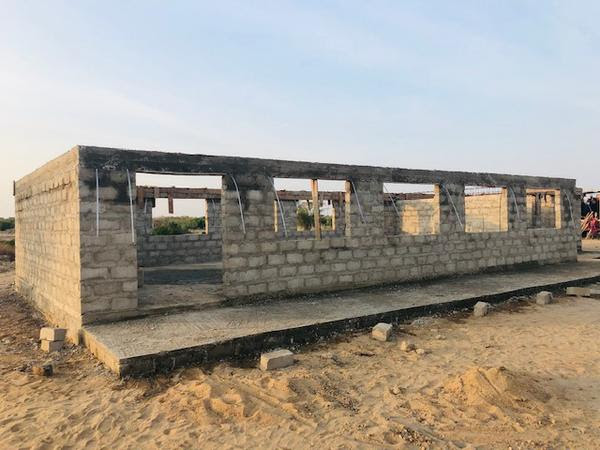 Building is going up quickly
Problem with Locusts
Locusts continue to devastate Turkanaland, consuming what little vegetation is left. The government is trying to eradicate them by spraying from the air and ground. Continue to pray that they will be brought under control.






Some of SHARE's Motivators in Lorugum Zone:

Samuel Aiyo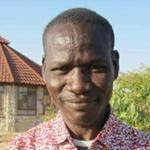 Ayengyeng Lotoom Eloiloi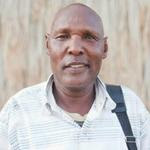 Moses Ng'akipi
Remaining amount needed for 3Q – $158,047
Thank you SO MUCH for your prayers and support!
You may also mail your donation to:
SHARE International, Inc.
P.O. Box 1011
Wolfforth, TX 79382
You may reach the SHARE Director – Sammy Murimi – at:
director@shareint.net
(318) 243-4243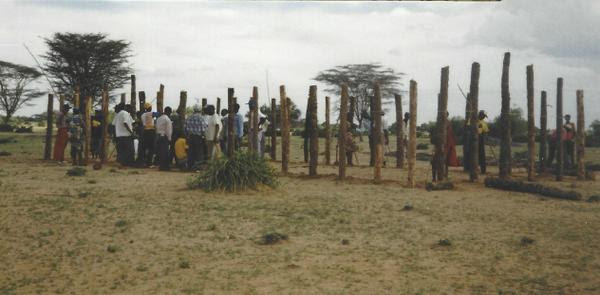 Construction of the first church by the 1997 STORM Team
Nadapal Village, Lorugum Zone