The SEED – August 2020
AUGUST 2020 EDITION
To them God chose to make known how great among the Gentiles are the riches of the glory of this mystery, which is Christ in you, the hope of glory. Him we proclaim, warning everyone and teaching everyone with all wisdom, that we may present everyone mature in Christ. For this I toil, struggling with all His energy that He powerfully works within me.
Colossians 1:27-29
In January, SHARE established a Leadership Structure of accountability to aid in oversight of all the Disciple-Making Movement (DMM) ministries in the ten Zones across Turkanaland.
To learn more about the DMM Strategy and Leadership Structure visit 
shareint.org/dmm
.
Updates from the Zones indicated in blue are featured in this newsletter.
Ministry Tools Ready for Distribution
    After much anticipation, some of the Disciple-Making Movement (DMM) tools are ready to be dispersed to the spiritually hungry people of Turkana. A shipment of 280 solar-powered Audio Bibles arrived at the SHARE Office in Lodwar this week. Logistical and transportation problems caused by COVID-19 have delayed delivery of more Audio Bibles. Please pray that the remaining consignment will get there soon.
    Another ministry tool is the DMM signage bookmarks – a highly effective evangelistic and discipleship teaching tool for the majority Turkana oral learners. SHARE managed to get the bookmarks printed locally. The team will begin distributing the Audio Bibles and bookmarks to Motivators and Champions throughout the 10 Zones right away.
Chokchok
Motivators continue to see God at work in the villages that they serve. They are encouraging believers in Lighthouses on a regular basis through Audio Bibles, prayer, and sharing their personal testimonies of how God has moved in their lives.
  With COVID restrictions now lifting a little, Lighthouses are allowed to meet in small groups. This has been very beneficial for the spiritual growth of believers. Many Lighthouse members are boldly sharing their faith with others and leading them to Christ. This has led to an increase in social relationships and interactions between members. There are a total of 59 Lighthouses in the Zone – and growing!
Here are video testimonies of two believers whose lives have been impacted by the DMM methodology in their respective Lighthouses:
Nayada
Oral learners rely on someone with an Audio Bible in their village to learn more about God. They sit around such a person (while observing social distancing) and listen to the Word of God. They are drawing strength from the Word of God. Monitors and Motivators are meeting with people throughout the Zone to remind them of social distancing, hand washing, and prayer that God will curtail the spread of coronavirus and meet their needs.
  There are 58 Lighthouse in Nayada Zone, with a combined attendance of 246 disciples who are continuing to thrive, with Lighthouses being the only means of gathering and learning together that they have at this time. The Audio Bible is a great tool for the Lighthouses, as many of the Champions cannot read or write. Many Lighthouses are desperate for Audio Bibles. They look forward to receiving devices any day now.
Here is testimony from Champion Anna Lolem, pictured with her Lighthouse group in Kakiring Village.
My name is Anna Lolem (center). Before I was introduced to Christ my life was miserable. I used to brew alcohol and sell it. I also drank all the time. I didn't know who God was and what He had done for me. I didn't even know what a church was. Then one day, James Lolem (a Share Motivator) brought the Word of God to the Village of Kakiring where I lived. I went to Sunday services and Wednesday Fellowship for Women. That is when I heard the Word of God for the first time and understood what the Lord has done for me through His death on the cross.
  When the DMM methodology was introduced in our village, I joined other learners. We learned how and started sharing the Word of God with our friends who didn't know Jesus. We told them how God has a different plan for our lives; that He loves us very much, even though we have done bad things; and that He wants us to leave behind the bad that we are doing and follow Him. Some have accepted what Christ has done for them and have become followers of Jesus as well!
  Since hearing the Word of God and what He has done for me, my life has changed. I am no longer making and selling alcohol. Instead, I am following the Word of God and seeking to make disciples of Christ. I go to homes in my village and share the Word of God with the people. I am continuing to learn from the DMM leaders, so I can continue to share the truths of God's love in the village.
The Chokchok Zone building project is now complete! Hallelujah! Construction of Kalemng'orok Zone DMM Center is set to begin in early September. It will be the 7th of the 10 Centers that Share has planned to build in Turkanaland! Your donation of any amount towards the completion of the remaining 4 Centers (in Kalemng'orok, Lorugum, Lokori, & Katapakin Zones) will be immensely appreciated. We are confident the Lord will provide.   
Chokchok Zone DMM Center

Many areas in Turkana received rain showers. Thank you God for the rain!
The Turkana County Government is lifting some of the restrictions because of the reduced number of COVID-19 cases. By the end of July there were 28 cases.
A community in Lokori Zone has given approximately 10 acres for the building of the DMM Center. Praise God!
God to provide clean water resources in the areas where our Motivators are ministering
Funding for fences around the DMM Centers
Please pray for these Motivators in Chokchok Zone:

John Ereng
Paul Lomuria
Josephat Lapur
Remaining amount needed for 3Q – $114,257
Thank you SO MUCH for your prayers and support!
We also request you to consider sponsoring one or more of the 27 Motivators that are still without support at 
$2,400/year
. You can sign up to support one at
s
hareint.org/sponsor-a-
missionary/
You may also mail your donation to:
SHARE International, Inc.
P.O. Box 1011
Wolfforth, TX 79382
You may reach the SHARE Director – Sammy Murimi – at:
director@shareint.net
(318) 243-4243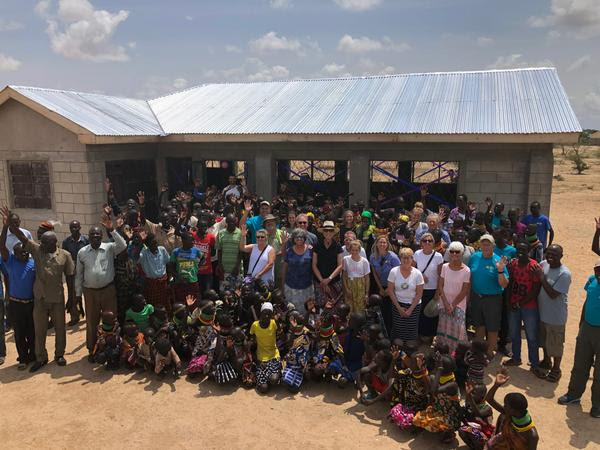 Sopel Zone DMM Center Grand Opening – STORM Team 2019