The SEED – December 2021

December 2021
A new year always brings changes. At SHARE International, we will also be undergoing some changes in the way that we communicate with you – our valued readers and supporters. Beginning in January 2022, we will be combining all of our communications into one monthly SEED bulletin. We will feature one Turkana Zone, a specific ministry in Turkanaland and Toposaland, the Next-Gen Initiative, Praises & Petitions, and any other important information, including financial updates. Be watching for the updated SEED at the end of January.
(Note: The SEED bulletin includes personal testimonies to demonstrate the power of the Gospel to change lives, with the hope that the Holy Spirit would touch and encourage the reader through them, and hopefully share with others that do not know Christ.) 
"As the rain and the snow come down from heaven, and do not return to it without watering the earth and making it bud and flourish, so that it yields seed for the sower and bread for the eater, so is My Word that goes out from My mouth: It will not return to Me empty, but will accomplish what I desire and achieve the purpose for which I sent it."
– Isaiah 55:10-11

UPDATES FROM KALEMNG'OROK & KACHODA ZONES
The 13 Monitors and Motivators in Kalemng'orok Zone have planted 34 churches so far with 1,762 members attending. The number of believers continues to increase through homestead-to-homestead evangelism and prayers for communities that do not know Christ. This month has witnessed 27 people accept Christ in the zone. No one was baptized as water is scarce due to severe drought.
   The Audio Bible has been a very powerful tool for the oral-learner believers as they grow in their faith. So far this year 117 Audio Bibles have been distributed to church members in this zone. The 89 Champions leading Lighthouses rely on the Audio Bible as they teach the 444 disciples. More Audio Bibles are needed as more and more believers join the Lighthouses.
TESTIMONY
My name is Alice Ngi'minae. I am a resident of Lopirpira Village. My Pastor is Motivator Joseph Napak. He taught me the  Word of God and now I am leading a group of ten women in my village.
  Before I came to know Jesus, I brewed alcohol and also drank it. After listening to Motivator Joseph share about God's love for me and my need to repent of my sins, God opened my eyes so that I could see that what I was doing was not right. God forgave my sins. Since that time, God has strengthened me and has taught me to let the past go. I now lead and teach women the Word of God. I am in His hands. I pray for Jesus to guide me as I continue to share the Good News.
   Since I got saved I have seen the faithfulness of God. At the beginning of this year, my son was very sick and required surgery. I was referred to Eldoret Hospital and was told that I needed to pay Ksh.200,000 ($2,000.) for the surgery. I turned to God and said, "Lord, I don't have the money. Do your own operation." Later in June, God answered my prayer by healing my son without any medical procedure!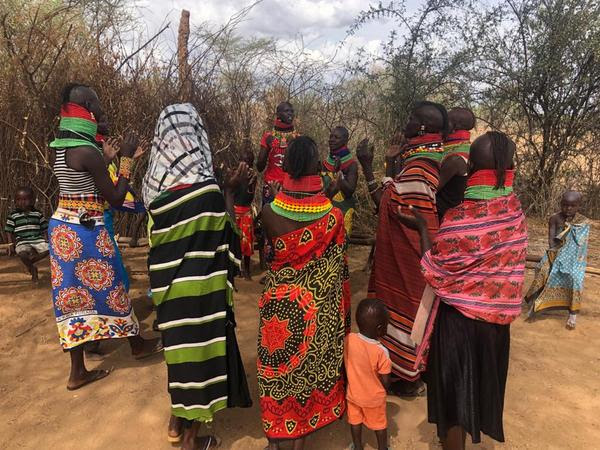 CHAMPION ALICE NGIMINAE (IN HEAD SCARF) WITH HER LIGHTHOUSE IN LOPIRIRA VILLAGE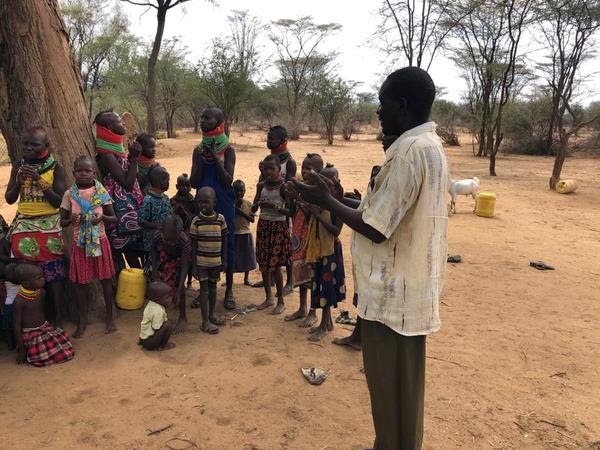 MOTIVATOR SAMUEL LOMURIA SPEAKING WITH THE YOUNG WOMEN IN KAESEKON VILLAGE

Weekly Bible Study group meetings are continuing throughout the villages in Kachoda Zone. The Word of God is spreading fast through DMM Lighthouses; believers are growing in their faith. Many are becoming bold, sharing their story and God's Story with others in their respective villages. The 23 Champions in the zone are leading Lighthouses with 132 disciples attending. In November 56 people accepted Christ! No one was baptized as water is very scarce.
  You can hear the Word of God being played on the Audio Bible when the young and old men meet under their respective trees where they gather to tell stories and play games. You can also hear it when the shepherds are out with their flocks! The women and girls listen to it at home when they are doing their chores or fetching water from the watering holes or wells.  You can hear the Audio Bible being played almost every morning, with people gathering to listen.
   Motivators have set a goal of having an Audio Bible in every homestead. They do not have enough Audio Bibles to accomplish this goal. They praise God for the Audio Bibles they have and are thankful for the organization that is producing them in their language. The spread of the Gospel is accelerating with incredible efficiency through the use of the Audio Bible.
   The Motivators are grateful to the SHARE International and Covenant Church of Naples team from the U.S. that visited the zone in September to follow up on the progress with the Next-Gen Initiative.They are staying focused on this "True North" movement to reach the unreached people groups in South Sudan and Ethiopia through the next generation.
   Currently there are 22 churches in the zone that are led by 6 Motivators and Monitors, with 2,283 members attending services weekly. New Motivators being appointed to 4 of the newer churches, including one of the two shepherded by the late Motivator Peter Ewoton.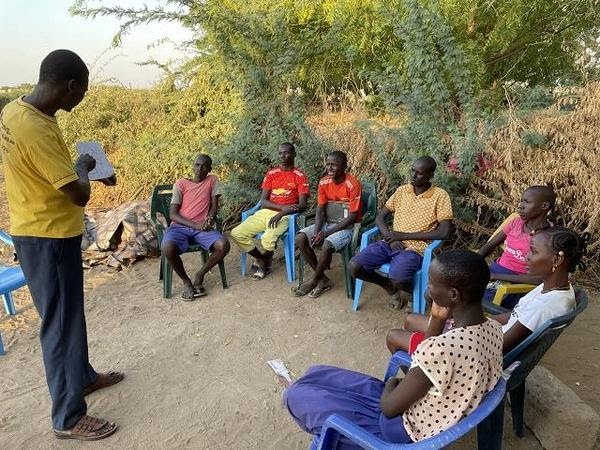 CHAMPION KENNETH ERAGAE FACILITATING THE YOUTH LIGHTHOUSE IN KIBISH VILLAGE
CHAMPION MAGARET AKALONAN LISTENING TO THE AUDIO BIBLE WITH HER LIGHTHOUSE IN MILIMA-TATU VILLAGE
The Toposa Outreach Missionary Team has now entered and is settled in among the Toposa people of South Sudan! The missionaries reached three previously unreached villages in November – Naminiot, Nateregat, and Kop in Kapoeta North region where they carried out homestead-to-homestead evangelism and screened The Jesus Film. They are now set to reach two more villages in December – Choroi and Lolepanin in Kapoeta South region. The leader of the team – Nickleby Miramoe – reports:
   "The Toposa people are very receptive and friendly to us, allowing us to share the Gospel of our Lord Jesus Christ without problems. We have now completed survey in 33 villages and witnessed 28 souls put their faith in Christ as Savior. We are expecting more to come to know Christ through the DMM methodology – using Audio Bibles, signage bookmarks, and screening The Jesus Film. They love watching The Jesus Film! Currently we are working on building deeper relationships while mapping more unreached villages. We are in the early stages of reaching the people; we have not established any congregations yet. We have distributed 41 Audio Bibles in Payam Division, 20 in Kauto Administrative Region, 10 in Mogos, and 11 in Patinga."
   Three major challenges here include traditionalism, animism, and lack of clean water.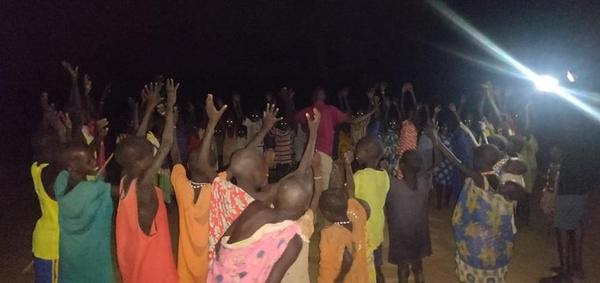 SCREENING THE JESUS FILM IN A VILLAGE IN TOPOSALAND
A GROUP OF TOPOSA MEN THAT HAVE ACCEPTED CHRIST AS SAVIOR. THREE OF THEM HAVE VOLUNTEERED TO BECOME CHAMPIONS.
Take time to listen to Joseph Lotabo's tesitmony. He is a new believer in Toposa.
TURKANALAND
PRAISES
More and more are coming to Christ through Lighthouses as they hear the message on the Audio Bible (Romans 10:17)
Continued commitment and dedication of SHARE staff, Motivators, and Champions
Encouraging outcome of the Adult Literacy Classes – enabling people to read and write
Completion of water drilling survey in Kalemng'orok Zone; drilling will begin soon
Four motorbikes were provided for Motivators in Kachoda Zone to aid in sharing the Gospel in remote unreached villages
REQUESTS
Clean drinking water across Turkanaland
Motivators to grow spiritually strong and healthy congregations and Lighthouses
More and more men in the villages to be drawn to Christ and join Lighthouses
Moderate rainfall to eradicate prevelant drought and famine
Relief for starving masses
Peace between the Turkana and Murle communities near Ethiopia border and the Toposa and Jie in South Sudan
Peace in Ethiopia
For these Motivators in Kalemng'orok Zone: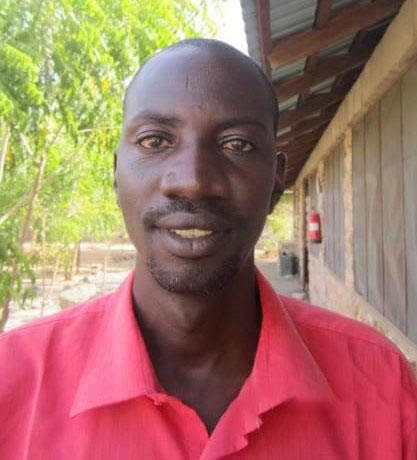 DAVID INGOLAN NAKOKIL
RICHARD ESINYEN
SAMMY EKHAMAIS
TOPOSALAND
PRAISES
Safe trip for the Toposa Outreach Missionary Team from Turkanaland to Toposaland in November and good reception by the Toposa people
Grateful to the SHARE International fraternity and supporters for praying for the Toposa Outreach Missionary Team and providing the necessary materials to facilitate the outreach
REQUESTS
For peace and reconciliation between the Toposa and Murle communities
That gender-based violence experiences in many parts of Toposaland that lead to early marriages will stop
Intervention through God's Word and Literacy programs in Toposaland
For the availability of an Adult Literacy Class teacher
In January 2022, the SHARE Staff in Lodwar will begin visiting the 14 locations in Kalobeyei and Kachoda Zones to secure specific sites where the Sending Centers will be built. The process involves meeting with the elders of each village and the area government administration officers. The team will also evaluate the current status of the children and youth (the next generation) in each village and vicinity. SHARE plans to start and complete construction of the first 4 centers in 2022! Your prayers and support for this important initiative are greatly appreciated.

TURKANALAND MINISTRIES
    Needed by end of 2021: $31,481/KShs.3,148,100
TOPOSALAND OUTREACH
    Remaining Budget Needs: $11,821/KShs.1,182,100
NEXT-GEN INITIATIVE
    Remaining Budget Needs: $282,000/KShs.28,200,000
We also request you to consider sponsoring one or more of our Motivators that are in need of support at $2,400/KShs.240,000 per year (or $200/KShs.20,000 per month). You can sign up to support one here.
Thank you SO MUCH for your prayers and support!
*If donating online, you may assign a donation using the designation box. After you have chosen 'PayPal' or 'Credit or Debit Card', the next screen will allow you to designate which project you would like your donation to go to. To do so, click where it says "Designate ministry to receive funds below", and type your response there (i.e. Turkanaland, Toposaland, Next-Gen). Then complete your transaction. If donating by mail, you may assign your donation by writing it on the check's Memo line or including a note.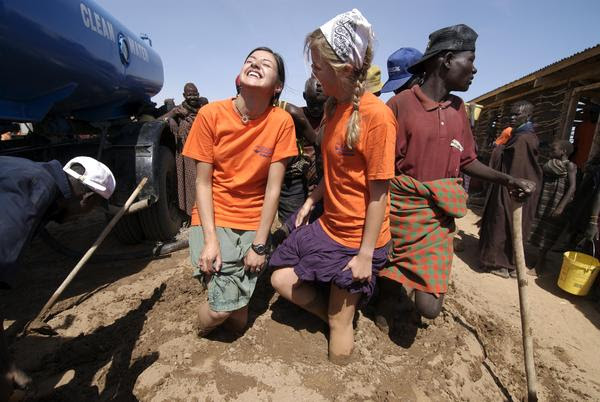 MIXING THE MUD THAT WILL BE PLACED ON THE NEW CHURCH WALLS DURING STORM 2006