Praises & Petitions from Turkanaland: Week 6
WEEK OF FEBRUARY 8th, 2021

 The Monitors of Nayada Zone are James Lomor, Joseph Lobolia, and Peter Lomanat. Their mother churches are located in the villages of Kalokutanyang, Nadapal, and Nayada, respectively. They have planted a total of 6 daughter churches in remote villages. There are nearly 700 members attending in these 9 churches!
    There are 6 targeted villages in the zone that have yet to hear the Good News. The Monitors plan to reach the remaining unreached population in the zone with the help of all 23 Motivators, 52 Champions, and 398 trained disciple-makers. In fact, James and Joseph are conducting outreaches this month to the remote villages of Kurot-ngaberu and Nanyangakipi, respectively. Pray for them and their teams of evangelists to have a successful mission and for the villagers to open their hearts to the Lord.
A Word from Monitor Joseph Lobolia
    I serve as the treasurer in Nayada Zone. I minister at Redeemed Church of God in Nadapal Village and in my daughter church in Naurenpuu Village. I am thankful today for Year 2021. I thank God for giving me life, so I may continue teaching the Word of God.
    I have 2 Lighthouses and 2 Champions. We meet every Wednesday. I give thanks to God for the DMM signage bookmarks that have made it easier to teach others how to share the Gospel. We are thankful for the audio Bibles, which contain the New Testament and songs of worship in our language. We request Share International to put together audio Bibles with the Old Testament books, so we can hear it in our language.
    God bless you all in 2021. Thank you to our sponsors! We pray for you.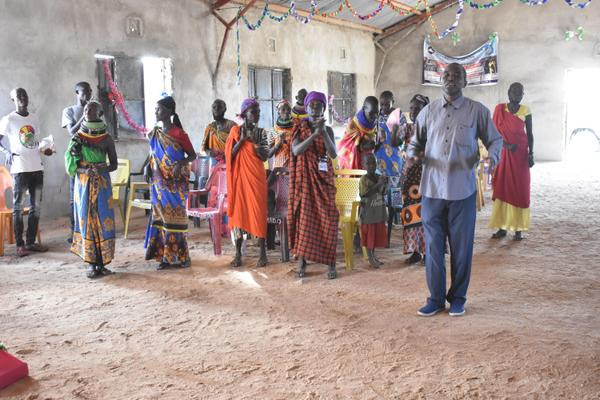 Joseph (right, front) with some of his congregation
You may also mail your donation to:
SHARE International, Inc.
P.O. Box 1011
Wolfforth, TX 79382
You may reach Sammy Murimi at:
You may reach the SHARE Director, Dalmas Esekon, at:
THANK YOU SO MUCH FOR YOUR PRAYERS & SUPPORT!