Praises & Petitions from Turkanaland: Week 3
WEEK OF JANUARY 18th, 2021

There are over 1,400 women attending church regularly in the 45 Share-planted churches throughout Lorugum Zone. Of the total 32 Lighthouses in the zone, 14 are led by women, with 82 women being trained how to become disciple-makers. They continue to grow in their faith and are learning how to lead others to Christ using Audio Bibles and signage bookmarks. So far, 32 of the disciples-in-training have led others to a saving faith and invited them to join Lighthouses!
    Pray with us that God will give these women the strength and courage to continue sharing the Gospel in their villages.
TESTIMONY
    My name is Rebecca Amojong from Nawoyatira Village. I am saved. I go to Pentecostal Church of God. Jesus Christ has been good in my life. One thing God has done in my life is save me from the bad things that I used to do, like fighting, brewing alcohol, and many other things. God is gracious. He separated me from my evil ways and brought me to the light, and now I am strong in His Word. That's the beauty of His goodness. I continue following the Word because it teaches me every day to forsake my sinful nature. He is a good God; there is none to compare with Him.
    I see the good work that God is doing in my life, which has made me different from worldly people. When my children are hungry, I call unto Him, and He provides food for us. When I needed money for my children's school fees, I called unto Him, and He provided. 
    I teach other women about God, and have seen them accept the Word of God. I teach women and some men from my church in a Lighthouse. They are doing well in their faith. I want those that I teach to start spreading the Good News to others who haven't heard, so that everyone can be saved. I want to see God's Word proclaimed all over, so that all bad things disappear. The Word of God is the only thing that can clear the bad things in people's lives.
    The first thing is to turn and pray to God in every problem that you are facing in life. It is God who has power. God is good and blameless. You will not be an orphan when God is with you. He will be your Father and Protector. He will always remain close to you and uphold you. God will not forsake you. When you remain in God, He will continue to help you. He will save you from darkness and wants you to sit near Him. All that you need He will give to you.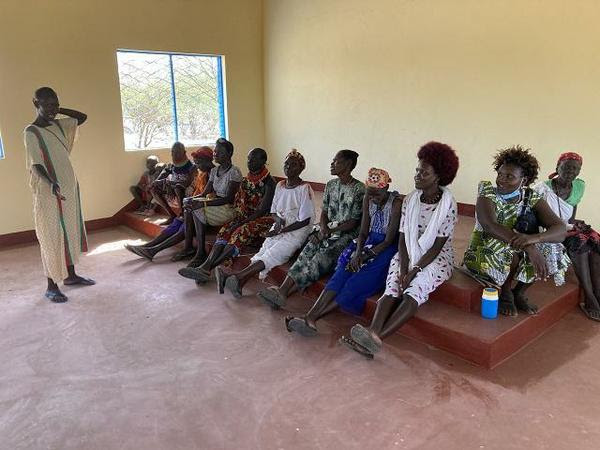 Rebecca with her Lighthouse disciples in the new Lorugum Zone DMM Center

PRAISE
Construction of Katapakin Zone DMM Center has begun! This will be the 9th of 10 centers planned in SHARE's "Decentralized Strategy" implemented in 2019.
PETITIONS
More believers to join Lighthouses and become disciple-makers
God to intervene with the insecurity in Lokori Zone, where construction of the 10th DMM Center is scheduled to begin as soon as the funds are raised
Staff & Motivators to remain strong spiritually against the almost insurmountable cultural pressure they face that can easily lead to departure from ministry altogether (Gal. 5:4; 2 Tim. 4:10)
You may also mail your donation to:
SHARE International, Inc.
P.O. Box 1011
Wolfforth, TX 79382
You may reach Share at:
director@shareint.net
THANK YOU SO MUCH FOR YOUR PRAYERS & SUPPORT!