Praises & Petitions from Turkanaland: Week 28
WEEK OF DECEMBER 7th, 2020

The three Monitors of Lorugum Zone are Abraham Lokuwom, Peter Esinyen, and Silas Ekomwa. Their mother churches are located in Lorugum, Keakorongole, and Urum villages respectively. They have also planted 11 daughter churches in remote villages – Lorengipi, Loya, Lobei, Natorongowoi, Kemanik, Kangacherai, Sasak-echoke, Nagis, Loya, Nakwapua, and Natelo. In all 14 churches combined there are 1,036 believers attending regular services. There are 20 Lighthouses within the churches, where 120 believers are growing in their faith and learning how to become disciple-makers in their communities.
    The Monitors have received 15 Audio Bibles and 8 DMM signage bookmarks for use during church service, Lighthouse meetings, and homestead-to-homestead evangelism. Believers are grateful to be able to listen to the Word of God in their own language and share what they learn with each other and others.
    SHARE has identified 64 unreached remote villages in Lorugum Zone. Pray with us that disciples will continue to multiply and be equipped so as to reach all of the remaining lost souls in the Zone with the Good News of salvation.
TESTIMONY
My name is Mary Kosipir Tiya. I am a church member at Holiness Church in Kaekorongole Village under Pastor Peter Esinyen. I am currently nourished and healthy both physically and spiritually. I have witnessed the truth of God's Word, and I love listening to it. I used to be stubborn and caused chaos. I would fight with any person that interfered with my plans. I used to be a drunk and addicted to chewing tobacco. Then I received God's Word and accepted Christ who became the author and shepherd of my life. Now I'm in the frontline sharing God's Word and His Son Jesus Christ with others. No turning back! I am asking all people to accept the Word of God and be saved through Christ who was crucified for our sins. Let us all accept and follow Him. God is the protector of life and source of blessings. Thank God for saving me and being a blessing to your people.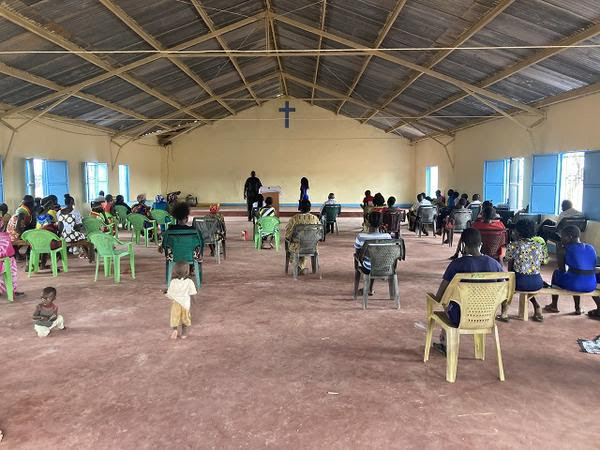 Monitor Abraham Lokuwom Preaching in His Mother Church
SHARE Director's Walk-A-Thon

With God's help, Sammy has walked 288 miles (463 km) since October 1st! He hopes to complete 368 miles (592 km) by December 31st and raise the remaining $169,329 for 2020. Any donation toward this endeavor is greatly appreciated. Thank you so much!
You may also mail your donation to:
SHARE International, Inc.
P.O. Box 1011
Wolfforth, TX 79382
You may reach the SHARE Director – Sammy Murimi – at:
director@shareint.net
(318) 243-4243
THANK YOU SO MUCH FOR YOUR PRAYERS & SUPPORT!