Praises & Petitions from Turkanaland: Week 2
Jesus said, "Let the little children come to me, and do not hinder them, for the kingdom of heaven belongs to such as these."
Matthew 19:14
WEEK OF JUNE 8th, 2020
    The Children's Ministry in Nakiria Zone continues to grow, now with 17 trained Sunday School teachers in action. Share's curriculum for training Sunday School teachers includes multiple lessons, beginning with qualifications of a good teacher to the importance of children before the sight of God. The vision is to make disciples of the children by training the Sunday School teachers to be disciple-makers, who in turn train the children to make disciples of others.
    There are 747 children, ages 5 to 12, attending church regularly in the 40 Share-planted churches throughout Nakiria Zone. The children continue to grow in their faith and practice the discipleship methods they have been taught. So far, one children's cell-group, or "Lighthouse", has been established with 15 disciples. All of these young disciples have successfully led others to faith in Christ!
Nancy Lomoe (pictured on left) is a Sunday School child from Lopong'o Village, Nakiria Zone. She reported that Sunday School has taught her how to pray, read the Word of God, and use the disciple-making methods to minister to other children and lead them to know Christ as Savior. Nancy stated she has seen many children in the village come to know Jesus.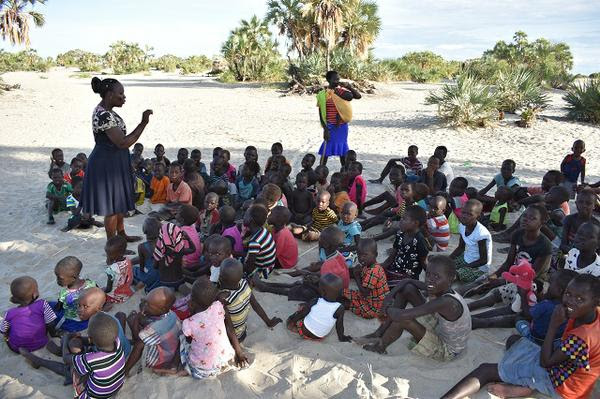 Mary Esinyen ministering to children in Long'em Village
God's protection over the children
DMM methodology to continue to be effective among the children, that they may become faithful disciples for the next generation
Sunday School teachers to stay committed and passionate about the Children's Ministry
Construction of Kachoda Zone's DMM Center will be completed by the end of next week! We are grateful to the Lord for making this construction possible through our donors, staff, and building crew.
Kachoda Zone Monitor, Peter Ewoton, has recovered after suffering from Hepatitis B. He is grateful to his sponsors and others donors in the U.S. for providing the funds needed for his treatment.
A total of six coronavirus cases have now been reported in Turkanaland. Pray that the Lord will prevent the virus from spreading any further and allow ministry activities to safely resume.
Team Leader, Dalmas Esekon and his family are mourning the loss of his nephew, who died in a motorbike accident last week. The nephew's mother passed away a month ago. Pray for strength and encouragement for the family.
The government is fighting invasions of locusts in Turkanaland, but they continue to increase every day. Pray that the Lord will intervene.
Pray that the Lord will provide for those who are starving in Turkanaland.
THANK YOU SO MUCH FOR YOUR PRAYERS & SUPPORT!
You may also mail your donation to:
SHARE International, Inc.
P.O. Box 1011
Wolfforth, TX 79382
You may reach the SHARE Director – Sammy Murimi – at:
director@shareint.org
(318) 243-4243