Praises & Petitions from Turkanaland: Week 18
WEEK OF SEPTEMBER 28th, 2020

This month, one additional Lighthouse has been started, and 7 new disciples have joined Lighthouses in Kachoda Zone. There are now 19 Lighthouses with 95 disciples attending throughout the Zone. The Lighthouses are meeting regularly and consistently. The 19 Champions of these Lighthouses are committed to the calling of sharing the Gospel and making disciples of others. The disciples are committed to the calling too, as at least 14 of them have successfully led others to a saving faith!
TESTIMONY
     My name is Agnes Nawiapem. I come from Karioreng Village. Before I knew the Word of God, I was a person with a multitude of sins. I was an alcoholic. I enjoyed causing chaos and being involved in fights; any wrongdoing was my hobby. One day, Motivator John Lokiria Ebei came to visit me. He spent time teaching me the Word of God, and I was convicted and gave my life to the Lord. After several visits and teachings from John, I decided to pass the teachings along to other ladies in my village. Now I am a Champion of a Lighthouse. Thank you and God bless you.
Champion Agnes with Her Lighthouse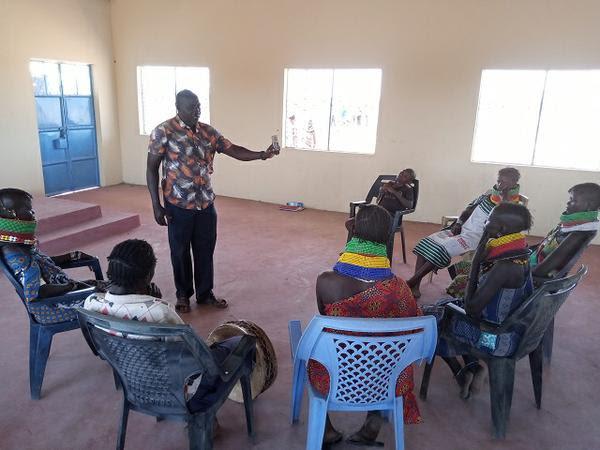 Motivator John Sharing with His Lighthouse Using an Audio Bible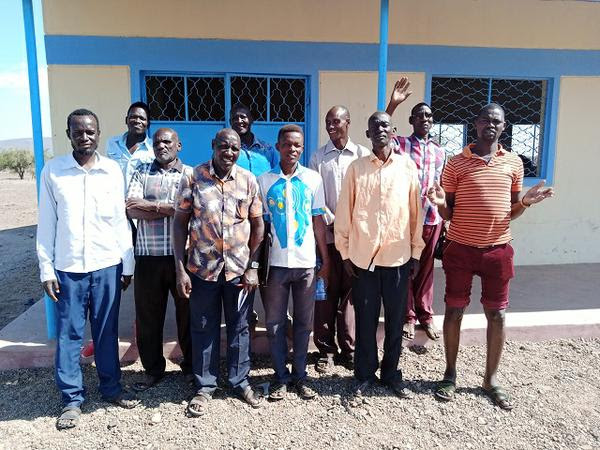 Kachoda Zone Motivators and Adult Literacy Teacher
Many more to join Lighthouses and become disciple-makers
Healing for the sick animals
Provision of funds for fencing around the DMM Center
Provision of a Jesus Film Projector to be used during village outreaches in the Zone

Completion of drilling for water at the Nakiria DMM Center!
Good progress on construction of Kalemng'orok Zone DMM Center
Increase of Lighthouses, Champions, and disciples continues
Audio Bibles are being distributed throughout Turkanaland. The second shipment of 330 devices has arrived in Lodwar, and the remaining 370 of the total 1,000 are on the way! Share plans to purchase more Audio Bibles as the delivery process affected by COVID improves.
PETITIONS
Successful training of more DMM Champions
Provision of moderate rains
THANK YOU SO MUCH FOR YOUR PRAYERS & SUPPORT!
You may also mail your donation to:
SHARE International, Inc.
P.O. Box 1011
Wolfforth, TX 79382
You may reach the SHARE Director – Sammy Murimi – at:
director@shareint.net
(318) 243-4243