Praises & Petitions from Turkanaland: 8/30
AUGUST 30th, 2021
On July 27th, the SHARE team in Turkanaland planted a new church in Ngirito Village, Lokori Zone! The team experienced a warm welcome and thirst for God's Word among the villagers. During the outreach, they visited homesteads, conducted an open-air meeting, and shared the Gospel using Audio Bibles. A total of 77 villagers gave their lives to Christ, and 11 of them were baptized! Monitor David Ekaran Ariong has become the pastor of this church. At the very first church service, 85 members attended, and 4 volunteered to be trained as Champions of a Lighthouse. Under the leadership of these 4 new Champions, 24 disciples are learning how to make disciples of others.
The Open-Air Meeting taking place in Ngirito Village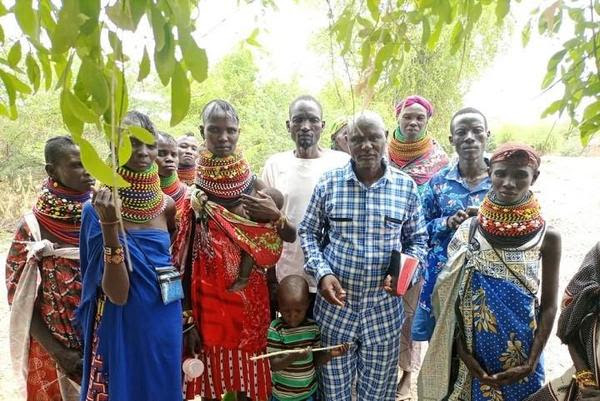 Monitor David Ekaran with some of the new believers from Ngirito Village
PRAISES
    – Grateful for the changed lives in Ngirito Village who now have access to God's Word and a church
    – Increased giving of church members in Nabwel-ekorot Village, Nakiria Zone under Motivator Peter Ille
    – Healing of Operations Manager, Stanley Lokwawi and Toposa Missionary, Amos Ekaale
    – Sponsorship for Motivator Peter Losekon Ekiro of Kalemn'ogorok Zone
PETITIONS
    – The new believers in Ngirito Village to remain strong in the faith and become disciple-makers
    – Successful local fundraising for the church in Nabwel-ekorot Village to complete construction of their church building
    – God's favor and protection for the 7 missionaries who have now entered Toposa
THANK YOU SO MUCH FOR YOUR PRAYERS & SUPPORT!