Praises & Petitions from Turkanaland: 8/2

AUGUST 2nd, 2021
In Loving Memory….
Motivator Peter Ewoton passed away Saturday, July 24th in the Lodwar Hospital after fighting Hepatitis B for a couple of years. Peter served as a SHARE missionary for 12 years. He was known for his love for the Lord, leading people to Christ, and a deep, powerful voice. Many lives were changed for eternity through Peter and his dedication to sharing the Gospel. Please join us in prayer for Peter's wife, Elizabeth, and their children.
Precious in the sight of the Lord is the death of his faithful servants.
– Psalm 116:15
Peter Ewoton preaching at a Revival Meeting in Kachoda Zone

More and more young women are coming to know the Lord and joining Lighthouses throughout Turkanaland. Around 3,900 young women attend church regularly in the 10 Zones. Attendance has increased the last few months due to faithful disciples sharing the Word with others and inviting them to church. There are 309 young women attending Lighthouses to learn how to become disciple-makers, and another 64 are Champions of their own Lighthouses! A total of 19 of these disciples led others to a saving faith in Christ last month!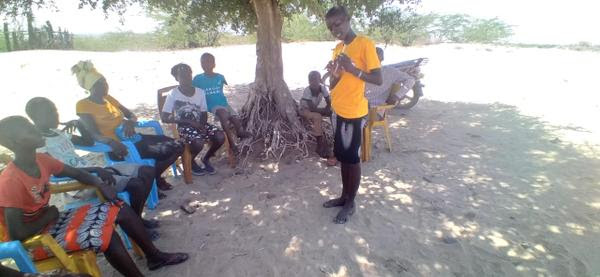 A Young Women's Lighthouse using a DMM Signage Bookmark
PRAISES
    – Continued spiritual growth of young women throughout Turkanaland
    – Peace along the Kenya-Ethiopia border
    – The Chokchok Zone Water Borehole has been funded and drilling will begin soon!
PETITIONS
    – Peace and comfort for the wife, children, and congregations of the late Motivator, Peter Ewoton
    – God's favor and protection for the Toposa Missionary Team as they enter South Sudan
    – Healing for Motivator Gabriel Elimlim and Coordinators Moses Ngakipi and Wilson Ekamais
THANK YOU SO MUCH FOR YOUR PRAYERS & SUPPORT!