Praises & Petitions from Turkanaland: 11/22
NOVEMBER 22nd, 2021
On October 18th, 8 SHARE staff and 3 Motivators traveled to Lomunyen-aibei Village in Chokchok Zone to share the Gospel and plant a church. After screening The Jesus Film, 113 villagers accepted Christ as Savior. Later, 33 new believers were baptized. A total of 132 people attended the very first church service. One person has accepted the call to become a Champion of a Lighthouse, and will train 6 disciples to make disciples of others. Motivator Josephat Lomuria will oversee this church along with his 8 other churches.
MOTIVATOR JOSEPHAT (LEFT) WITH THE NEW CHURCH MEMBERS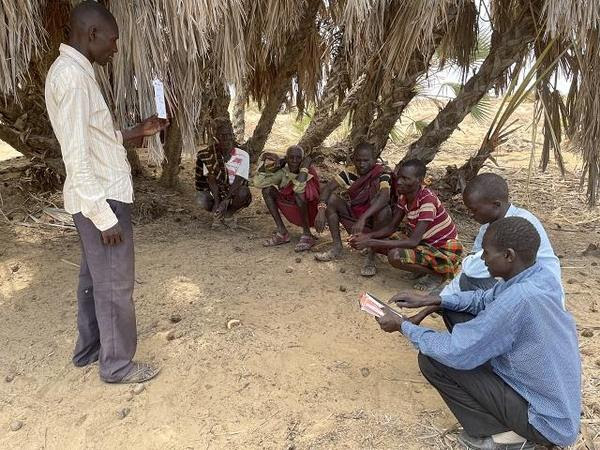 THE NEW CHAMPION, PETER EYANAE, WITH HIS NEW LIGHTHOUSE
PRAISES
– Those who were saved and baptized during the new church plant
– Continued protection and support of SHARE Motivators throughout Turkanaland and Missionaries in Toposaland
PETITIONS
– New believers in Lomunyen-aibei Village to grow in their faith and become disciple-makers
– God's favor and protection for the Toposa Missionary Team as they travel back to Toposaland this month
– Provision of resources for the construction of 14 Sending Centers (Click here to learn more about the "Next-Gen Initiative".)
THANK YOU SO MUCH FOR YOUR PRAYERS & SUPPORT!